When you find the right pair of sunglasses, they become more than just a form of protection from the sun. They begin to play the role of a fashionable and essential accessory. Additionally, they emphasize your style and character. Find out how to choose them according to your face shape.
How do I know my face shape?
You may know your blood type, but you don't know your face shape. This is not something we often think about, but it determines whether sunglasses fit you or not.
To analyze your face shape, pull your hair back to see the full outline. Consider which part is widest. The jaw, the cheeks, or maybe the forehead? Also note the shape of the jaw (round, triangular, or pointed), the length of the face (long or short). If you still have doubts, you can outline the contour of your face on the mirror with lipstick or a dry erase marker.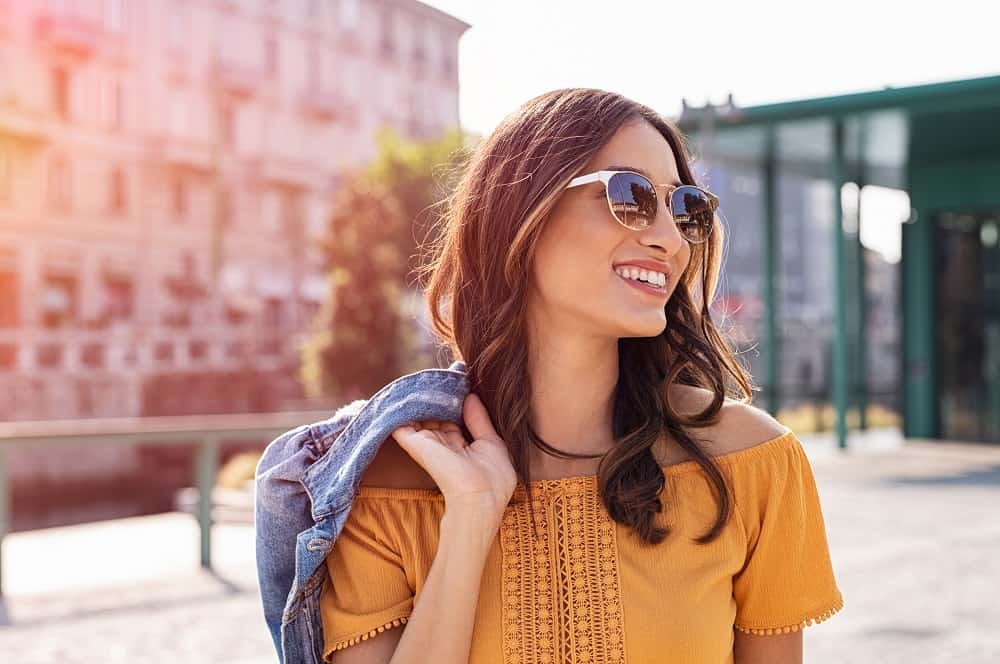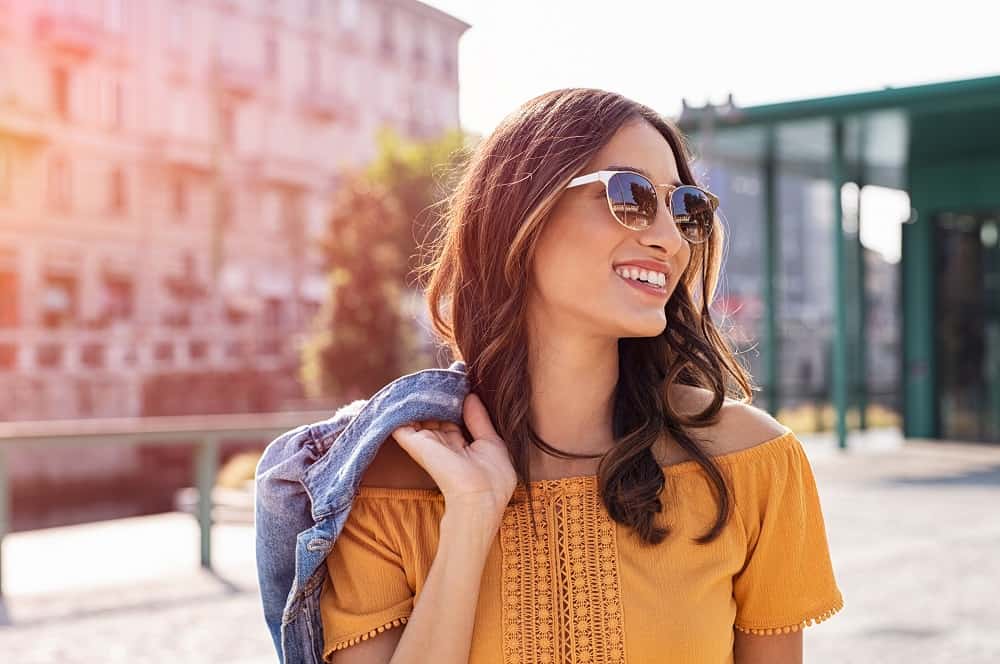 Glasses for a round face
Wondering if you have a round face? It has several characteristics. The widest part of the face is the cheekbones. Additionally, it tapers slightly at the forehead and jawline. The chin is usually located at the same height as the jaw.
Your task will be to visually extend it, so choose glasses with dark frames. They narrow the face and sharpen the features. If you want to balance the proportions, opt for a pair with wider frames. You can buy glasses: pointed, rectangular, square; "cat eyes"; butterfly-shaped; with narrow noses.
But avoid glasses: round, with narrow frames, with sharp edges, in geometric shapes, with colored lenses or covering the eyebrows.
Glasses for a square face
Do you have a sharp chin? Jaw, cheeks and forehead are about the same width? If so, try round, frameless glasses. They will balance out a sharp chin and square forehead, while frameless models will soften your facial features.
You can also look for a pair of glasses with colored frames. This will make you stand out from the crowd. Additionally, they will emphasize your unique personality. You can also buy oval shaped or slightly rounded glasses, which will divert attention from your wide jaw. But steer clear of small, narrow frames and those with sharp edges.
Eyeglasses for an oval face
An oval face is longer than it is wider. It is also distinguished by a round chin and a forehead that is wider than the jawline. Its widest part is the cheekbones.
When looking for suitable glasses, remember not to disturb the harmonious facial features, so avoid massive models. Ideally, the frame should be about the same width as your face. Make sure that its upper part fits nicely into the eyebrows. You can choose rectangular, round, oval, butterfly or "cat eye" shaped glasses. Also look out for the popular aviators, which are perfect for sporty styles.
Eyeglasses for the heart-shaped face
A heart-shaped face has several characteristics: the widest part is the forehead, it narrows at the jawline, the chin may protrude below the jawline. In this situation, opt for glasses in the shape of cat eyes, butterfly or round. Such models will optically narrow a wide forehead.
Eyeglasses for a Rectangular Face
Rectangular face resembles a square face, but is longer than wider. The forehead, cheekbones and jaw are of similar width, and the chin is gently pointed. If you want to soften sharp facial features, choose subtle, rounded frames. On the other hand, avoid narrow, small, bright and colorful frames.
If you want to visually shorten a long face, look for slightly larger frames. They should slightly overlap the cheeks and avoid small, rectangular sunglasses.
What else is there to keep in mind?
When choosing your eyeglasses, pay attention to your eyebrows. The upper part should match the natural shape of the eyebrow arch. Do not choose a model that obstructs it. Also, do not choose glasses by force, just because you like them. If they press on your cheekbones, better look for another pair. Of course, during high temperatures a pinched nose is the norm. On the other hand, give up glasses in which you feel uncomfortable already in the salon.